2015-06-11
FlowCalc CE version 5.34 released. This is a minor bug fix release.
2015-03-03
FlowCalc CE version 5.33 released. This release includes:
Added database packing to keep the database size as small as possible.
2015-02-19
FlowCalc CE version 5.32 released. This release includes:
Fixed defect related to long orifice id:s in import.
2011-01-01
FlowCalc CE version 5.31 released. This release includes:
Tested with W7
2009-08-04
FlowCalc CE version 5.30 released. This release includes:
Choked flow check for gases and steam.
 Cavitation and flash check for water.
 BBL/hr and BBL/Day flow units for petrolium added.
2008-12-10
FlowCalc CE version 5.11 released. This release solves some problems with the printed reports.
 2008-07-11
FlowCalc CE version 5.00 released. This version makes FlowCalc32 Windows Vista compatible. There are also some minor tweaks in the printed reports.
2007-03-30
FlowCalc CE version 4.00 released. This release contains many changes and added features.
What's new in version 4.0:
 Material expansion factor calculator added. This tool automatically calculates the material expansion factor for a number of common materials.
Primary device images added. The primary device is illustrated to make it easier to find the correct one to use. The illustration is also included on printouts.
 Totally redesigned file manager that makes it easier to store and manage calculations.
Redesigned entry form interface, nicer too look at and faster to use.
2006-06-28
FlowCalc32 CE version 3.10 released.
We have now included calculation of Quadrant Edge orifices. FlowCalc32 CE does now calculate this orifice device as specified in ISO/TR15377. All users of version 3.xx can make this upgrade free of charge. For users of earlier versions we are offering upgrade discount.
2006-01-21
FlowCalc32 CE version 3.03 released.
We have now included calculation of Long radius nozzles. FlowCalc32 CE does now calculate all orifice devices specified in ISO5167. All users of version 3.xx can make this upgrade free of charge. For users of earlier versions we are offering upgrade discount. The flowcalcfix program. is removed from our site as it is not needed anymore.
2006-01-20
New manual released on the site. The manual does now support FlowCalc32 CE version 3.03
2005-02-03
FlowCalc32 CE version 3.01 released.
Minor bug removed.
2004-10-18
FlowCalc32 CE version 3.00 released.
We are proud to release our new software for orifice calculations. This will give professional users a tool to evaluate compensation formulas for gas and steam purpose. This is an opportunity to get a tool that will give you full documentation with graphic diagrams showing the influence of temperature and pressure variations. We have also included a wizard which will solve the problem to get the best curve fitting compensation equation.
Did you knew that the normal formula to take the square root of the differential pressure may not always produce the best accuracy?
All those questions may now be solved with FlowCalc32 CE
The program has also got an improved interface.
Here is a screen shot from the pressure and temperature verification.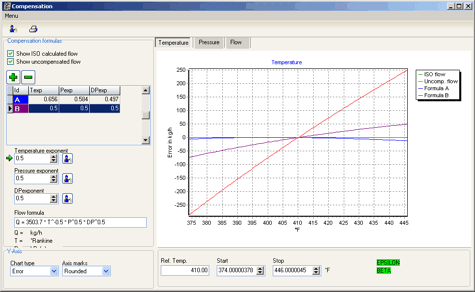 Learn more: Download the manual as pdf.
2004-01-29
FlowCalc32 CE version 2.21 released.
We have added a function to calculate the saturation temperature and pressure for steam. Earlier versions did use these values to check steam properties but now its also possible for the user to let the program calculate the saturation point for a given pressure or temperature. A bug in version 2.20 regarding STP calculation is also corrected. We advise all users that has installed version 2.20 to make an upgrade and recalculate all gas-calculations that have STP/NPT checked.
2004-01-25
We have moved the site to our domain www.controlengineering.se
A limited version of the old site will still be running, on the old address, for a time.
2003-11-18
FlowCalc32 CE version 2.20 released.
Save to /restore from file
This release includes a save to file restore from file function. This feature makes it possible to share calculations also for people that are not connected to a shared network database. This will make it easy for a traveling person to load his computer with the latest calculations before he starts his journey and when he comes back to the office he can transfer his calculation back the central database. Calculations may also be shared via email.
Test the save to file function before the trial time expires because this function will be disabled after that the trial time expires. People who has a paid for the license can of course use the save to file function.
STP condition improved
This release includes the most commonly used definitions of STP as well as a customizable STP point.
STP (Standard Temperature and Pressure) is sometimes refereed to as NTP or NPT. It is a temperature and pressure point referring to sea level conditions. The reason for using STP is that the density of gases strongly depends on temperature and pressure. It is therefore convenient to express gas properties at STP to make values comparable. What is less convenient is that there is no worldwide definition of what values for pressure and temperature that should be used at STP and different values are used in different countries and industries.
Calculations in Flow Calc32 CE are always performed at operating conditions and if STP is used density and flow are calculated to and from STP through the ideal gas law.
2003-05-05
FlowCalc32 CE version 2.05 is released.
Included Pipe Schedule and length units.
We have until now avoided to include non metric length units as our engineering company normally are using metric units. We have now listened to our users and added feature to calculate pipe and orifice sizes in -inches, -mm. and -cm. FlowCalc32 CE has one of the most flexible unit handling system available.
We have also included ANSI B.36.10 and B39.19 standards so that American pipe sizes may be used directly. Select a nominal pipe size and schedule from drop down lists and the internal pipe diameter will be calculated by the program instantly.
2002-01-01
Changed registration program.
The registration part of the program has changed so that the program does continue to operate even after that a the trial time has expired. Users are still only allowed to use the program for evaluation until a a valid licence is purchased.
2001-02-02
We have started a rebuilt site with some improvements.
Support pages for FlowCalc32 CE have been added.
2001-01-20
FlowCalc32 CE available at ShareIt
We have now made it possible for international users to buy FlowCalc 32 online. Single user orders will be be handled by ShareIt. We have plans to expand this feature to also include multiple (network) users.
This will make it easier to order and our response time will also be quicker.
2001-01-15
The site is updated to show FlowCalc32 CE version 2.02 which is our software for calculating orifice plates, venturi nozzles and venturi tubes.
This software has a long history, starting before the PC was developed by IBM. Earlier CPM and MS-DOS versions of the program was named TurboOrf and was only available in Swedish language.
In 1993 the program code, for the interface, was completely rewritten in order to have the program running under Windows 3.11. To emphasize that this was something new, the program was renamed to FlowCalc for Windows. We also improved the program with features, such as leaving the traditional way of file storage of calculations and instead using database systems that gives a much better overview and handling of old calculations. The same technique was implemented also for units and other data. Network support was also added.
The release of the FlowCalc32 CE version 2.xx in January 2001 included several improvements such as the latest ISO5167 standards and the program being multilingual, including English and Swedish. The report generator was rewritten so that reports also may be presented graphically on screen.
But the main reason to change program name was that with this release we finished supporting the W3.11 platform. The newer 32 bit platforms as W95, W98, NT4, W2000 and XP workstations are now supported.
Read more on the FlowCalc32 CE pages.